I should be getting packed to take off to the Bay area tomorrow. I'm teaching in Danville (
Stamper's Warehouse
) and Berkeley (
Scrapbook Territory
). I used to live in Danville and in fact graduated from highschool at San Ramon Valley High in, dare I say, 1984. Go Wolves.
Instead of getting ready I have been obsessed with a conversation I had the other night in New York about cereal. We, meaning those who actually existed during the seventies, were reminiscing about the cereals of old...some still exist...some don't.
Of course my faves were...Count Chocula, Frankenberry and Boo Berry...really more of a Chokula fan...but the others were great too.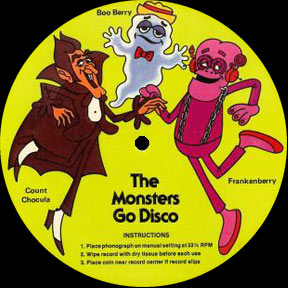 What amazed me was that someone at the table had never heard of Fruit Brute...as I was seeking for a Fruit Brute image I came across a cereal that I had forgotten about ...Yummy Mummy...it replaced the brute...but I think it was more or less the same. For those in the know...Fruit Brute was featured in both Pulp Fiction and Reservoir Dogs...here's an image of Lance(Eric Stolz) the drug dealer eating a bowl. Tim Roth had the box in his apartment in Reservoir Dogs.
For a brief time I was really really into bi- or tri-planes and these cereals really got my fancy, but alas they didn't last long.
I have to say that my all time fave of all time was Freakies. Here they are under the Freaky Tree. Each box contained a different characture.
I was most fond of the purple dude...
Okay enough is enough.... time to do laundry and organize tools....ciao and have a good week,
Michael